How Grid-Edge AI™ is reshaping the value case for next generation smart meter deployments...
Over the past few decades, AMI (Advanced Metering Infrastructure) has certainly become the bedrock technology behind utility smart grid infrastructure. And with it has come a multitude of innovations designed to help utilities extract more value from these investments.
Perhaps most notable has been the progress made around customer load monitoring and analysis. The availability of advanced analytics capabilities and its application to new AMI data streams has deepened utilities' understanding of their customers and opened new levels of transparency into their energy usage behaviors—insights that are now being accessed widely across the utility operating model. For companies with mature AMI deployments, it's becoming hard to find parts of the utility business that haven't begun applying AMI insights at some level.
Integration of Machine Learning & AI
Over the past few years however, the study and application of customer usage and behavioral intelligence at utilities has undergone a major step-change. The introduction and adoption of machine learning and AI has dramatically increased utilities' ability to discover insights "behind the meter" and use that to create competitive advantage.

Advanced forms of load disaggregation and behavioral monitoring, once possible only through directly monitoringand sensoring of home appliances, can now be effectively achieved through new innovations in non-intrusive load monitoring. The ability to effectively "reverse-engineer" AMI data (accurately disaggregate interval usage into appliance-level profiles) and make it usable without the addition of "behind the meter" monitoring equipment, creates a faster, easier and cost-effective way for utilities to extract more value from their existing AMI deployments.
These advanced Non-Intrusive Load Monitoring (NILM) capabilities are now being made available through "plug and play" solutions that use periodic uploads from the utilities' AMI and MDM (Meter Data Management) environments and combine it with the vendor's cloud-based analytics to produce specific insights relevant to the utility business. An example of this is Grid4C's AMI-enabled Data-Science-as-as-Service platform that continuously applies its AI-enabled discovery and detection algorithms, perfected over the past decade, to a utilities' AMI data set to generate a body of pre-packaged insights that can be repurposed across a wide range of business applications.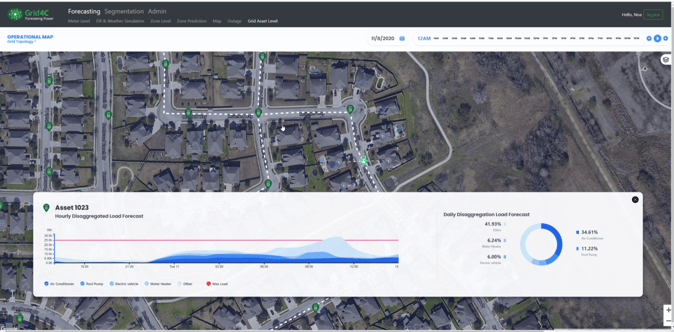 Armed with this added intelligence, utilities are able to drive more personalization in customer offerings, provide accurate forecasting for their grid planning and operational processes, and better optimize the use of renewable energy resources. For most utilities, that's something that can be done today, without any major change in their metering infrastructure.
Pushing Insights to the Edge
In recent years, the AMI community has been posing a new question: what if these AI-enabled load monitoring capabilities were applied directly to the real-time (often sub-second) data streams being captured on the device itself? What new sources of value could be delivered to the utility and its customers? And could this still be done without any direct monitoring of end-use appliances?
The answer to these questions has now been answered with a resounding yes. As the next frontier of smart metering comes into focus, leading manufactures of smart metering technologies have already started integrating these AI-enabled innovations into their latest generation of smart metering technology to enable new types of customer choice, communication, and control.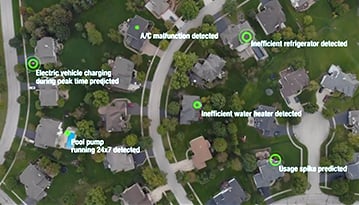 Grid4C, in particular, has been at the leading edge of this development and has been working since 2018 with leading AMI vendors Itron, Landis+Gyr, and Trilliant to perfect how its AI-powered predictive load disaggregation, DER load forecasting and optimization, home appliances and grid assets faults prediction, detection and diagnostics and more, will be applied though software operating on the meter itself to make this next generation of innovation a reality.
At the forefront of this evolution is Itron's distributed intelligence platform which will feature Grid4C's GridEdgeAI™ software as utilities across North America deploy its latest OpenWay® Riva CENTRON equipment.
Delivering Value Top to Bottom
As utilities contemplate where to apply advanced capabilities like these within their operating models (on premise vs. in the cloud vs. on the meter itself), it's becoming clear that this is not an "either/or" proposition. AI-enabled technologies and insights like these won't just live in one place within the value chain but are rather woven into the fabric of the value chain itself.
Where use cases demand real-time intelligence, such as notifying a customer that they've activated an appliance or EV during a higher priced time interval or sending real-time notifications regarding detected faults and anomalies, the logical solution is to tap into the AI on the meter itself. Doing otherwise would clearly be suboptimal as the cost of moving real-time data and the latency of doing so would block the value of these use cases.
Similarly, using AMI data, to generate AI-powered forecasts for bill projections or targeting customers for EE or DR programs based on their fit with specific load profiles, can often be done with only daily updates of interval-based usage. Hence, there is little value of processing this inside the meter.
However, both of these situations can (and should) leverage the same body of underlying algorithms and AI-enabled insights. By making a commitment to apply AI to the discovery of AMI insights and the myriad of use cases that can be enabled by and through its adoption, utilities will possess a hugely valuable asset that can be leveraged at all points across the utility value chain—top to bottom.